Embrace New Ways to Enjoy Benefits That  Technology Can Bring to Your Business Prospects
The logistics industry is not known for having loyal customers, as they prioritize high-quality and up-to-date services along with competitive prices. However, observing the current infrastructure of logistics and its supply chain network, it resembles a scattering offline satellite that unable to connect each other's capabilities and the diverse requirements of consumers. Each company operates in an offline method, relying on email and social media chat feature, making it challenging to interact and to share information efficiently with other forwarders or shippers. Additionally, each company who competes with each other offers an identical service with almost the same prices, resulting in customers shopping around. The common practice of waiting for days to receive responses to inquiries adds complexity to the end-user's supply chain system.
Consequently, most independent logistics companies either try to establish their own branch offices or attempt collaborations with other companies in a network of associations. However, managing individual office branches has its drawbacks in overseeing performance and budget due to the traditional offline nature of logistics businesses. Collaboration with various companies or agents introduces difficulties, as each company owner has their own ego and interests, leading to conflicting business interests, resulting in lost opportunities and confusion for customers. To progress into a modern era, the industry needs to address its longstanding reliance on traditional methods which requires a thoughtful and strategic approach to navigate with the dynamic demands of the global business environment.
A crucial breakthrough is needed immediately; the optimal solution is a transformation into technology-driven, platform method. We cannot assume what work in Japan will work in Thailand. For example, importing certain goods to Thailand and Japan has different restriction in addition of different operation procedures, duty and taxes rates. Bearing these differences in mind, when Mahyu was developed, we built modular logistics services by location, ensuring adaptability to the rules and regulations of specific locations. Additionally, we configured unique categorization of functions in its functions, making it easier for Mahyu to expand into different countries.
My initial plan was to focus solely on domestic and international air transport before the start of the COVID-19 pandemic. These two modules were designed to complement each other's requirements. The domestic service could handle the pickup of incoming international shipments and outgoing international shipments, provided the forwarder had a licensed customs broker. It also streamlined operations for multiple origins and destinations through a consolidation scheme, controlled by distance in administration menu. Our mobile application played a crucial role in providing real-time updates and receipts for work in progress, administration documents and completed tasks.
However, with the prolonged impact of the COVID-19 situation, we incorporated warehouse facility management. This addition serves as an integral part of the logistics service, covering the process from the warehouse at the origin to transportation and the arrival at the warehouse at the destination. The absence of real-time notifications is a notable gap in the supply chain industry. Additionally, we introduced automatic status notifications, eliminating the need for users to inquire manually. Similarly, for sales leads and new inquiries, having prompt information is crucial for processing incoming orders efficiently. In the current scenario, traditional sales teams often have to visit clients in person to inform them of new services.
As we gone through the challenges of COVID-19, I initiated the development of a separate administration menu. This was aimed at ensuring that each of our regional partners could configure settings in line with their specific rules and regulations. Simultaneously, I recognized the need for improvement in current import and export procedures. Many traded products lack proper HS code identification labels.
The inclusion of clear code labels would reduce potential misunderstandings and confusion among customs officers determining duty and restriction in each country. In my pursuit of this objective, I made contact with regulators of Harmonized system World Trade Organization (WTO) in Brussel, Belgium to request the implementation of HS codes for every finished product. Regrettably, as of now, we have not any final conclusion yet.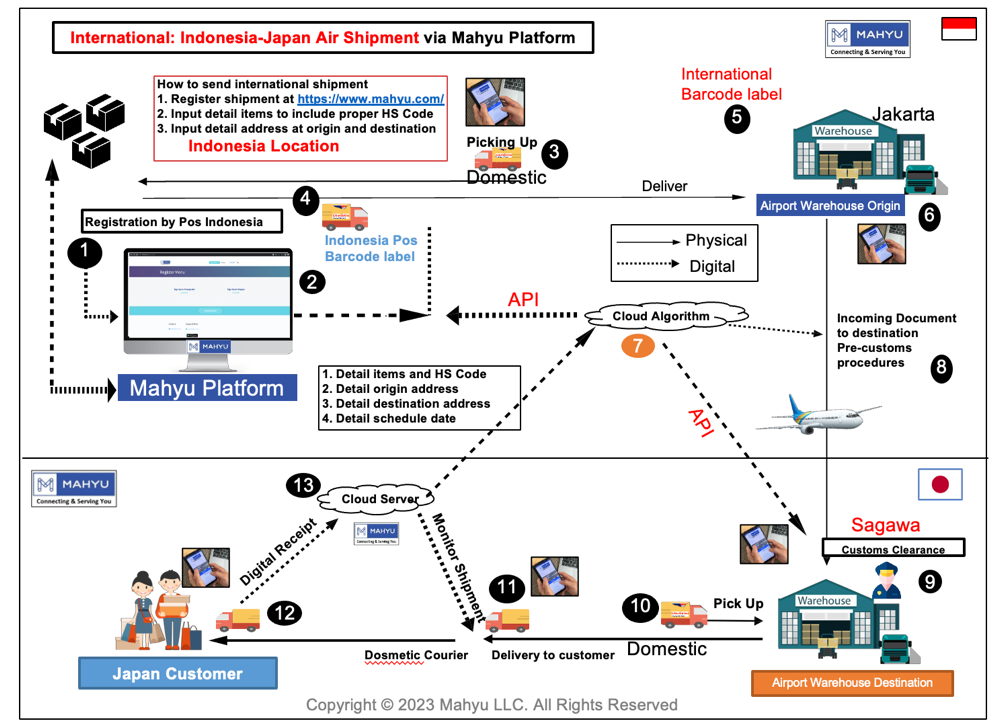 The unexpected demand from last-mile companies for the integration of a fully automated generation of new order information, complete with a breakdown of duties, taxes, and other additional charges, has propelled our expansion into ecommerce logistics. Additionally, we included an auto-generating barcode label that aligns with the requirements of last-mile delivery at the destination country, incorporating detailed item information and its HS code to streamline customs procedures. This information is securely transmitted via our API features to customs and our partners at the destination. To further assist our partners, we have automated the conversion of all shipment information into an Excel format, which can be downloaded through the order summary menu for their internal use.
Many current forwarding and logistics companies have been passed down from older generations to the second or even third generation, with the old owners often maintaining authority. They've adhered to long-standing business and operational methods for years and have been hesitant to invest in technology upfront, even though they recognize its potential to enhance their overall business strategy. Mahyu, being a technology company with expertise in both logistics and technology, believes that the key to ensuring the long-term sustainability of logistics and its supply chain value is to leverage advanced algorithms that deliver more value than human capabilities. By: Eddy Syaifulah.